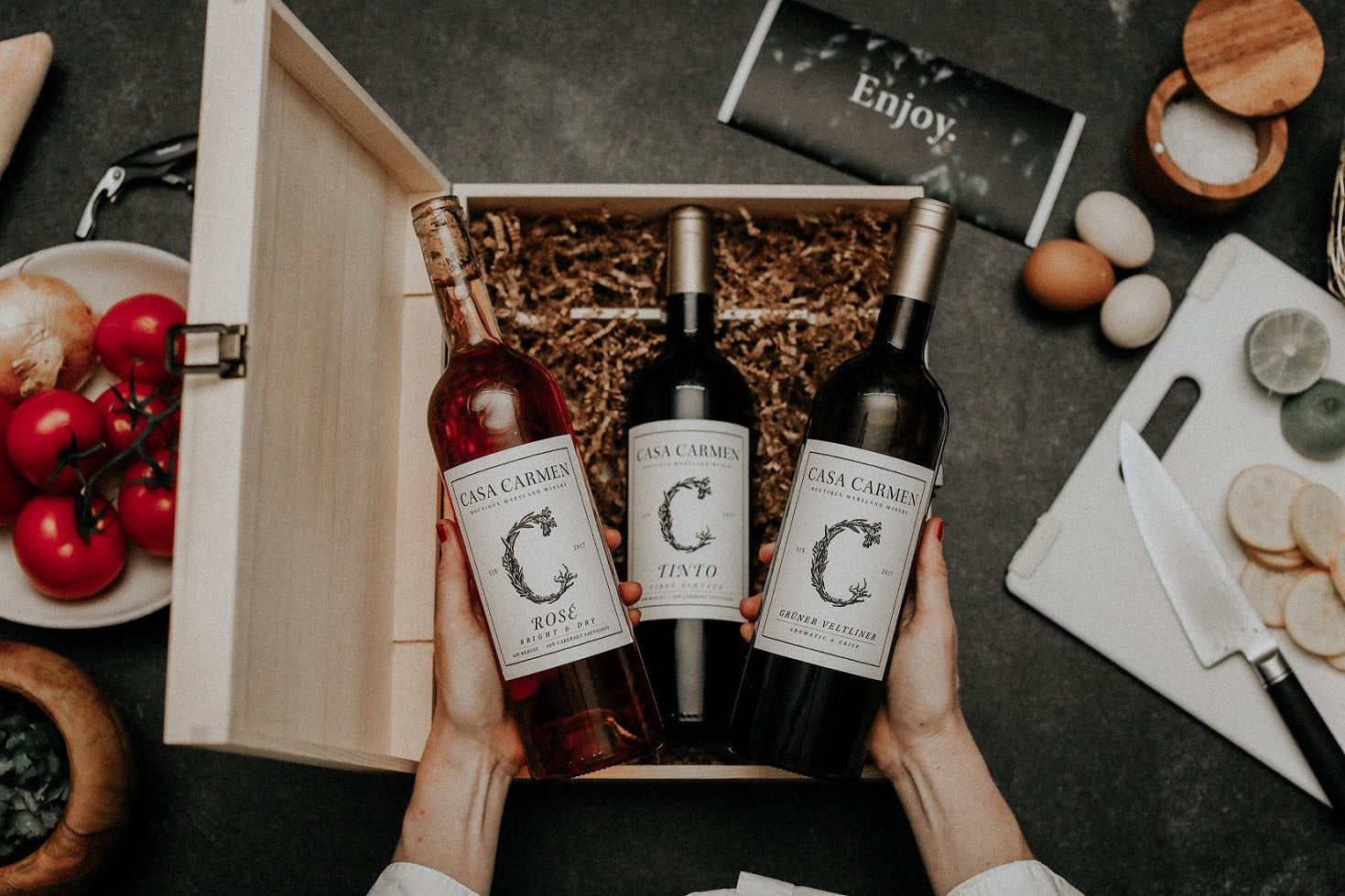 October 10, 2018
Dear Friends,
I'd like to welcome you again to the Casa Carmen family. It is a joy to have you as a founding member of our Wine Club while we begin the road towards making exceptional wines in Maryland. All of us making wine in the East Coast of the United States, and particularly in Maryland, are pioneers, and as such, we have many challenges. But we have already began to reap the fruits of our labor, and our first vintage is a great example.
As Wine and Food Specialist and WYPR's "Cellar Notes" co-host explained in a recent interview with Maryland Wine Press, "The first era of winemaking in Maryland is over, and the second era is underway. Its hallmarks are quality, innovation, and commitment to a bright future." Or, as Wine Enthusiast Magazine recently pointed out, "the Maryland wine industry is ready for prime time." Casa Carmen is proud to be an integral part of this development from its very beginning. We are very proud of our first vintage, and we are happy to see that others recognize the effort and care that has gone into crafting our wines.
Attached to this letter, you will find description cards for each of the wines you have purchased, and we hope that they are informative. But I'd like to just mention a few additional details regarding the wines that you will be drinking.
First, the Rosé holds a special place in our heart. Having been bottled on March 22, 2018, it was our first finished product. Further, we are delighted with its thoroughly Provencal character. The grapes came from the vineyard at just the right time to give it an excellent balance between fruit and acidity. Though it can be enjoyed any time, we really hope that you do like we do, and squeeze the last remnants of summer by its side.
Our Grüner Veltliner has an interesting story too. As lovers of grapes like Sauvignon Blanc, Albariño and Verdejo, we quickly gravitate towards whites that have many layers of complexity. Some people would call this a "red drinker's white," but I just like to think of it as a good white, a white wine that is equally drinkable and nuanced, a white wine whose complex nose continues to unfold every time you give it a swirl while retaining a refreshing minerality that will make you keep wanting more. In order to preserve its aromatic exuberance, we went through a minimal process of fining and stabilizing, so be sure to keep it cold. 
You also have the young preview of our Tinto (red wine in Spanish) in your hands. This wine has surprised us in many ways. With only having spent five months in French oak, we expected it to be far rougher around the edges, yet it has exhibited so much subtlety and nobility. Since our staple Tinto will be aged for around 15 to 18 months, we were hesitant to share anything younger with our customers. But the early maturity of this wine gave us the confidence to share it with our larger family, the wine club. It is a wine that exhibits many of the characteristics that we deeply love about the old world: nuance, drinkability, depth. But all these characteristics are only beginning to develop. As you read this, the bright red fruit that can be tasted in the overture of this wine continues to travel towards jam, its oak tannins continue to flourish, and its aromas of leather, tobacco and pepper continue to emerge. We sincerely hope that you enjoy this young protégé as much as we have.
Finally, I would like to say something about what is coming. Harvest is the most intense time in the vineyard and in the winery, and we are so happy to share some of this process with you. This year's vintage will bring a few interesting surprises. Our white will be complemented by a small percentage of Viognier. With its origins in Southern France, this is a wonderfully layered varietal that can be an excellent companion to our Grüner Veltliner, while maintaining our old-world commitment to the advantage of blends above single varietals. Our Tinto will also receive the peppery support of the third most important sibling of Bordeaux: Cabernet Franc. We hope to be able to produce two different blends, one Left Bank inspired, and one Right Bank inspired. However, many of these decisions will be made in cellar during the following months as we carefully monitor the life and development of each of our varietals. As always, we will strive for excellence and balance.
We hope you enjoy these wines and that we may share many years of good drinking together.
Sincerely,
Enrique
Comments (0)